VMC
VMC Performance Large Series
(T-BASE VMC)
Varients: VMC 1570 / 1580 / 1870 / 1880
To match greater accuracy with stability during high cutting condition for large size of components, Jyoti has developed Performance Large Series Vertical Machining Centers. Unique T-Base design and twin layer broad column structure sustains the vibrations & balances the machine against heavy cutting load and higher machining parameters. This machines finds its place in applications where heavy material removal where direct machining required from castings and forgings. The Series finds its application for injection moulding, investment castings, shell castings, forging dies, pressure die casting, pattern making and production work.
VMC Performance Large Series
(T-BASE VMC)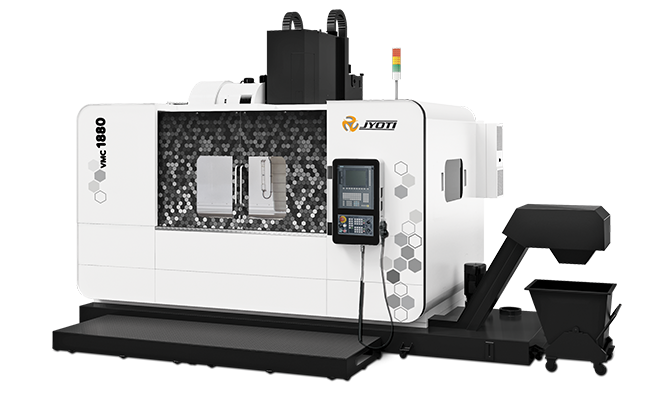 Key Features
High dynamics, unique T-Base step up structure.
Throughout base support to rigid triangular saddle.
Broad column design for stable and balanced conditions.
Higher load carrying capacity of table throughout full working area.
Wider roller type precision liner motion guideways.
Direct coupled ballscrew.
High performance 8000 rpm BT-40 spindle.
Electricals with quality device & panel AC.
90° tilting operator panel.
Ergonomic design.
Auto & manual coolant.
Efficient chip flow and disposal.
Wide working area.
TPM friendly.
Centralized & programmable lubrication.
Monoblock Structure

90° tilting operating panel

TPM Friendliness

Step-up Structure
| | | | | | |
| --- | --- | --- | --- | --- | --- |
| | | VMC 1570 | VMC 1580 | VMC 1870 | VMC 1880 |
| Table | | | | | |
| Table Size | mm | 1700 x 810 | 1700 x 810 | 2000 x 810 | 2000 x 810 |
| T-Slot Dimention | mm | 5 x 18 x 150 | 5 x 18 x 150 | 5 x 18 x 150 | 5 x 18 x 150 |
| Distance from Floor to Table | mm | 1340 | 1340 | 1340 | 1340 |
| Max. Load on Table | kgf | 2000 | 2000 | 2500 | 2500 |
| Capacity | | | | | |
| X-Axis Travel | mm | 1510 | 1510 | 1810 | 1810 |
| Y-Axis Travel | mm | 710 | 810 | 710 | 810 |
| Z-Axis Travel | mm | 810 | 810 | 810 | 810 |
| Dis. From Spindle Face to Table Top (Min.-Max.) | mm | 150-960 | 150-960 | 150-960 | 150-960 |
| Feed | | | | | |
| Rapid Traverse (X,Y & Z Axis) | m/min | 20 | 20 | 20 | 20 |
| Cutting Feed | m/min | 10 | 10 | 10 | 10 |
| Main Spindle | | | | | |
| Spindle Speed Range | rpm | 8000 | 8000 | 8000 | 8000 |
| Spindle Motor Power (Siemens 828D) | kW | 14.3 / 11 | 14.3 / 11 | 14.3 / 11 | 14.3 / 11 |
| Spindle Motor Power (Fanuc 0i MF) | kW | 11 / 7.5 | 11 / 7.5 | 11 / 7.5 | 11 / 7.5 |
| Front Bearing Bore | mm | 70 | 70 | 70 | 70 |
| Spindle Nose | | BT 40 | BT 40 | BT 40 | BT 40 |
| Automatic Tool Changer | | | | | |
| Number of Tool | | 20 | 20 | 20 | 20 |
| Max. Tool Dia. Pockets (All/Adj. empty) | mm | 80/125 | 80/125 | 80/125 | 80/125 |
| Max.Tool Weight | kg | 7 | 7 | 7 | 7 |
| Max.Tool Length | mm | 250 | 250 | 250 | 250 |
| Accuracy (As per VDI/DGQ 3441) | | | | | |
| Positioning Uncertainty (P) | mm | 0.015 | 0.015 | 0.015 | 0.015 |
| Repeatability (Ps medium) | mm | 0.008 | 0.008 | 0.008 | 0.008 |
| Machine Weight # (Approx) | kg | 14800 | 15000 | 16370 | 16570 |
| Dimension # (Approx) | | | | | |
| Length | mm | 3170 | 3310 | 3170 | 3310 |
| Width | mm | 4023 | 4023 | 4507 | 4507 |
| Height | mm | 3994 | 3994 | 3994 | 3994 |
* Depend upon clamping arrangement, Tooling & Job # Refer machine detailed layout