MillTap
Mill Tap Series
Varients: Mill Tap-10 / 20 / 30 / 40, VMC 430-3 / 4
The Mill Tap Series offers capability to deliver high speed-performance & productivity requirement of industries seeking performance for multiple drilling-tapping holes. This 3-Axis series with C-frame, fixed column, ribbed structure wall with FEM proven structure delivers sufficient rigidity with higher rapid rates has compatibility to cope up with various arena of demanding manufacturing industry. Twin arm type faster tool change and efficient chip removal system marginally saving non-cutting time places it efficiently in 3 & 4 axis machining segment.
Mill Tap Series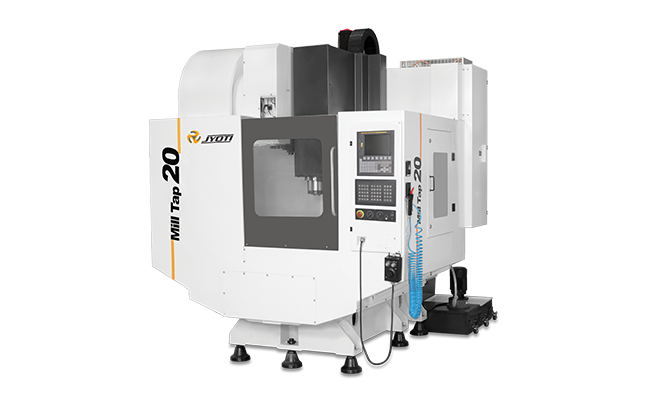 Key Features
High dynamics structure support rapid up to 40m/min.
Strong and rigid base and column structure construction.
BT30/40 Spindle with 8000rpm
Twin Arm Type 20 tool ATC.
Electrical with quality device and panel AC.
Auto and manual coolant.
Efficient chip disposal & easy chip evacuation.
TPM friendly design.
High speed drill-tap and milling application.
Centralized and programmable lubrication.
3-point leveling

TPM friendliness
| | | | | | | | | | | | | | |
| --- | --- | --- | --- | --- | --- | --- | --- | --- | --- | --- | --- | --- | --- |
| | | Mill Tap-10A | Mill Tap-10B | Mill Tap-20A | Mill Tap-20B | Mill Tap-30A | Mill Tap-30B | Mill Tap-40A | Mill Tap-40B | VMC 430-3A | VMC 430-3B | VMC 430-4A | VMC 430-4B |
| Table | | | | | | | | | | | | | |
| Table Size | mm | 660 X 360 | 660 X 360 | 660 X 460 | 660 X 460 | 915 X 360 | 915 X 360 | 915 X 460 | 915 X 460 | 600 x 300 | 600 x 300 | 600 x 300 | 600 x 300 |
| T-Slot Dimention | mm | 3 X 14 X 125 | 3 X 14 X 125 | 3 X 14 X 125 | 3 X 14 X 125 | 3 X 14 X 125 | 3 X 14 X 125 | 3 X 14 X 125 | 3 X 14 X 125 | 3 X 14 X 100 | 3 X 14 X 100 | 3 X 14 X 100 | 3 X 14 X 100 |
| Dist. from Floor to Table | mm | 1020 | 1020 | 1020 | 1020 | 1020 | 1020 | 1020 | 1020 | 880 | 880 | 880 | 880 |
| Max. Load on Table | kgf | 400 | 400 | 400 | 400 | 500 | 500 | 500 | 500 | 200 | 200 | 200 | 200 |
| Capacity | | | | | | | | | | | | | |
| X-Axis Travel | mm | 510 | 510 | 510 | 510 | 760 | 760 | 760 | 760 | 400 | 400 | 400 | 400 |
| Y-Axis Travel | mm | 410 | 410 | 510 | 510 | 410 | 410 | 510 | 510 | 300 | 300 | 300 | 300 |
| Z-Axis Travel | mm | 510 | 510 | 510 | 510 | 510 | 510 | 510 | 510 | 400 | 400 | 400 | 400 |
| Dis. From Spindle Face to Table Top (Min.-Max.) | mm | 100-610 | 100-610 | 100-610 | 100-610 | 100-610 | 100-610 | 100-610 | 100-610 | 200-600 | 200-600 | 200-600 | 200-600 |
| Feed | | | | | | | | | | | | | |
| Rapid Traverse (X,Y & Z Axis) | m/min | 40/40/32 | 40/40/32 | 40/40/32 | 40/40/32 | 40/40/32 | 40/40/32 | 40/40/32 | 40/40/32 | 40/40/32 | 40/40/32 | 40/40/32 | 40/40/32 |
| Cutting Feed | m/min | 10 | 10 | 10 | 10 | 10 | 10 | 10 | 10 | 10 | 10 | 10 | 10 |
| Main Spindle | | | | | | | | | | | | | |
| Spindle Speed | rpm | 8000 | 8000 | 8000 | 8000 | 8000 | 8000 | 8000 | 8000 | 8000 | 8000 | 8000 | 8000 |
| Spindle Power - Fanuc | kw | 5.5/3.7 | 7.5/5.5 | 5.5/3.7 | 7.5/5.5 | 5.5/3.7 | 7.5/5.5 | 5.5/3.7 | 7.5/5.5 | 5.5/3.7 | 7.5/5.5 | 5.5/3.7 | 7.5/5.5 |
| Spindle Power - Siemens | kW | 5.6/3.7 | 8.25/5.5 | 5.6/3.7 | 8.25/5.5 | 5.6/3.7 | 8.25/5.5 | 5.6/3.7 | 8.25/5.5 | 5.6/3.7 | 8.25/5.5 | 5.6/3.7 | 8.25/5.5 |
| Front Bearing Bore | mm | 50 | 50 | 50 | 50 | 50 | 50 | 50 | 50 | 50 | 50 | 60 | 60 |
| Spindle Nose | | BT 30 | BT 30 | BT 30 | BT 30 | BT 30 | BT 30 | BT 30 | BT 30 | BT 30 | BT 30 | BT 40 | BT 40 |
| Automatic Tool Changer | | Twin Arm | Twin Arm | Twin Arm | Twin Arm | Twin Arm | Twin Arm | Twin Arm | Twin Arm | Twin Arm | Twin Arm | Twin Arm | Twin Arm |
| No. of Tools | | 20 | 20 | 20 | 20 | 20 | 20 | 20 | 20 | 20 | 20 | 20 | 20 |
| Max. Tool Diameter (All Pocket Full) | mm | 63 | 63 | 63 | 63 | 63 | 63 | 63 | 63 | 63 | 63 | 80 | 80 |
| Max. Tool Diameter (Adjacent Empty) | | 80 | 80 | 80 | 80 | 80 | 80 | 80 | 80 | 80 | 80 | 150 | 150 |
| Tool Length Max. | mm | 200 | 200 | 200 | 200 | 200 | 200 | 200 | 200 | 200 | 200 | 200 | 200 |
| Tool Weight Max. | kg | 3 | 3 | 3 | 3 | 3 | 3 | 3 | 3 | 3 | 3 | 7 | 7 |
| Other Data | | | | | | | | | | | | | |
| Machine Weight #(Approx.) | Kg | 3350 | 3350 | 3400 | 3400 | 3750 | 3750 | 3800 | 3800 | 3100 | 3100 | 3215 | 3215 |
| Machine Dimension #(Approx.) | mm | 3265x 2380 x 2685 | 3265x 2380 x 2685 | 3265x 2380 x 2685 | 3265x 2380 x 2685 | 3265x 2540 x 2685 | 3265x 2540 x 2685 | 3265x 2540 x 2685 | 3265x 2540 x 2685 | 2420 X 1730 X 2650 | 2420 X 1730 X 2650 | 2420 X 1730 X 2650 | 2420 X 1730 X 2650 |
* Depend upon clamping arrangement, Tooling & Job # Refer machine detailed layout