K Mill
K Mill nvu Series
Varients: K-Mill 8 / 10
The portal type structure enables 3 -Axis machining operation from roughing to finishing with broad job envelope makes it at the highest level in its category. Combination of dynamics and accuracy allow to obtain greater surfacing quality. High structural rigidity provides optimized harmonic stability and damping during demanding cutting condition. Powerful high torque electro-spindle suited for higher material removal makes it HSM (High Speed Machining) capable. The series finds its wider application in die-mould manufacturing of injection moulds, forging dies, punching dies, cutting tools and aeronautic component manufacturing.
K Mill nvu Series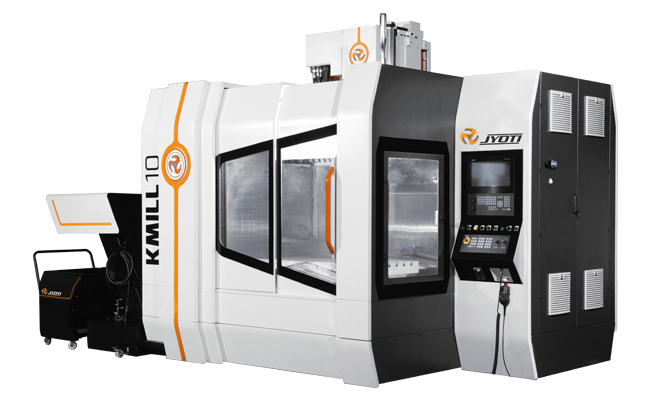 Key Features
Bridge type structure with portal in ribbed cast iron with stiff wall.
High dynamics structure support rapid up to 40m/min.
Hard material machining in a minimal time makes it HSM capable.
Higher load carrying capacity of table.
High speed 15000rpm, BT-40 electro-spindle.
Wider roller type liner motion guide ways.
Box guideways in Z-axis for K-Mill 10
Very large accessibility from the top.
Fast Auto Tool Changer with 24 tools ATC.
Electrical with quality device & panel AC.
Auto & manual coolant.
Centralized & programmable lubrication.
High Speed Machining

TPM Friendliness

Electro-Spindle
| | | | |
| --- | --- | --- | --- |
| | | K Mill 8 nvu | K Mill 10 nvu |
| Table | | | |
| Table Size | mm | 800 x 600 | 1250 x 700 |
| T-Slot Dimention | mm | 5 x 18 x 100 | 6 x 18 x 100 |
| Distance from Floor to Table | mm | 848 | 965 |
| Max. Load on Table | kgf | 500 | 1500 |
| Capacity | | | |
| X-Axis Travel | mm | 700 | 1000 |
| Y-Axis Travel | mm | 600 | 700 |
| Z-Axis Travel | mm | 500 | 600 |
| Dist. From Spindle Face to Table Top (Min.-Max.) | mm | 100-600 | 140-740 |
| Feed | | | |
| Rapid Traverse (X/Y/Z Axis) | m/min | 40/40/40 | 30/30/18 |
| Cutting Feed | m/min | 10 | 10 |
| Main Spindle | | | |
| Spindle Speed Range | rpm | 15000 | 15000 |
| Spindle Motor Power -Siemens | kW | 15 | 15 |
| Front Bearing Bore | mm | 70 | 70 |
| Spindle Nose | | BT 40 | BT 40 |
| Automatic Tool Changer | | | |
| Number of Tool | | 24 | 24 |
| Max. Tool Dia. Pockets (All/Adj. empty) | mm | 90/120 | 90/120 |
| Max. Tool Weight | kg | 8 | 8 |
| Max. Tool Length | mm | 250 | 300 |
| Accuracy (As per VDI/DGQ 3441) | | | |
| Positioning Uncertainty (P) | mm | 0.01 | 0.015 |
| Repeatability (Ps medium) | mm | 0.005 | 0.007 |
| Other Data | | | |
| Machine Weight #(Approx.) | Kg | 7000 | 10500 |
| Machine Dimension #(Approx.) | | | |
| Length | mm | 2600 | 2600 |
| Width | mm | 4480 | 4840 |
| Height | mm | 2800 | 2850 |
* Depend upon clamping arrangement, Tooling & Job # Refer machine detailed layout