TAC
Tachyon Series
Varients: Tachyon 4 / 5 / 7
To meet up focused demand of fastest drill-tap in Automobile, Surgical and Telecom industries Jyoti has developed high speed drill-tap center known as Tachyon Series. The series is equipped with fast electro-mechanical type integral pallet changer, fast tool changer and dynamic rapid of 60 m/min for axis. This moving column drill tap centers ideally fit for small and mid-sized components for continuous drilling-tapping operations with greater productivity offering.
Key Features
Optimized Construction to support 60 m/min rapid rates.
High acceleration up-to 15 m/sec²
Roller type high precision linear motion guideways.
Directly coupled high speed BT-30 spindle.
Integral work-piece changer (APC) with changing time is 4 sec.
16 tool drum type ATC with tool changing time 1 sec.
Hyd. fixture & Rotary production system available.
90° tilting operating panel to view machining area.
Ergonomic design and aesthetic look.
Efficient chip removal and easy disposal.
Auto & manual coolant.
Centralized & programmable lubrication.
Customer Testimonial
High Speed Machine

Productivity Solutions

90° tilting operating panel

Automatic Pallet Changer

Fast ATC

TPM Friendliness
Fragrance in Favor !!
To celebrate the maiden success of the Tachyon series of CNC High Dynamic Drill Tap Centers at IMTEX'17
the symbolic fragrance "TACHYON" was launched by the worthy hands of
Ms. Sonali Kulkarni
President, Fanuc, India.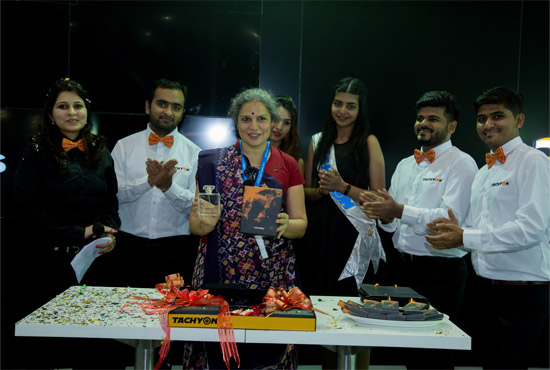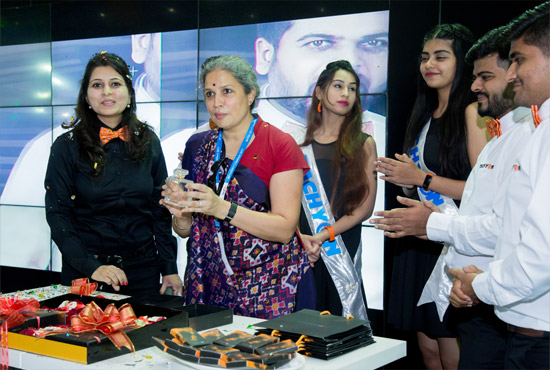 This pleasing floral aroma will always cherish the sweet memory of inception journey of this world class product range Tachyon. This fragrance was developed through the essence of the exotic rare spices of wild flowers from Himalayas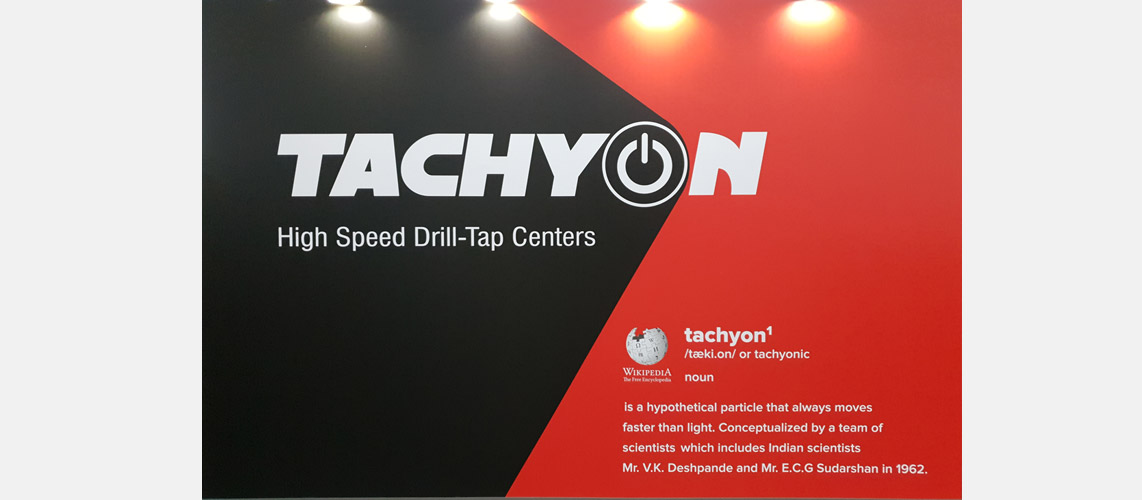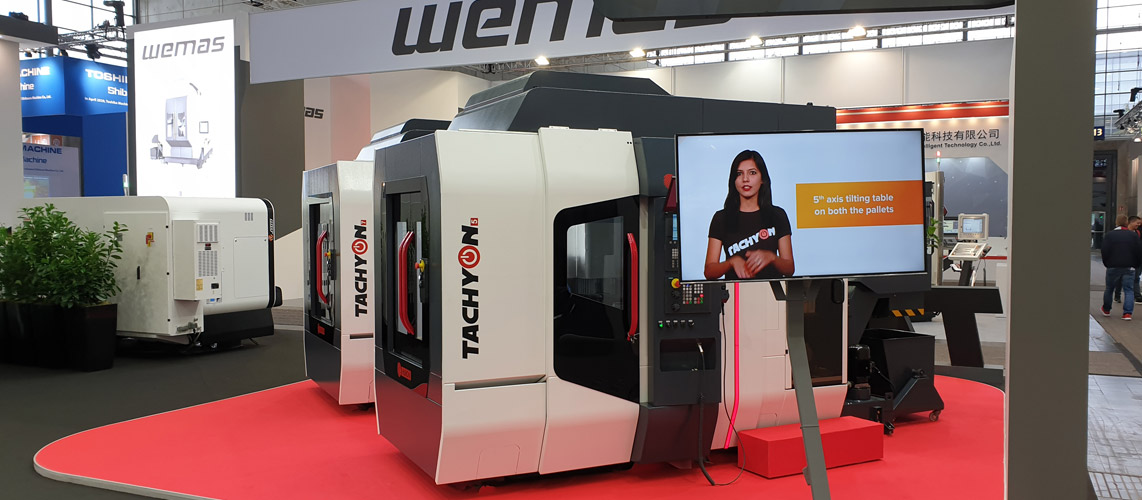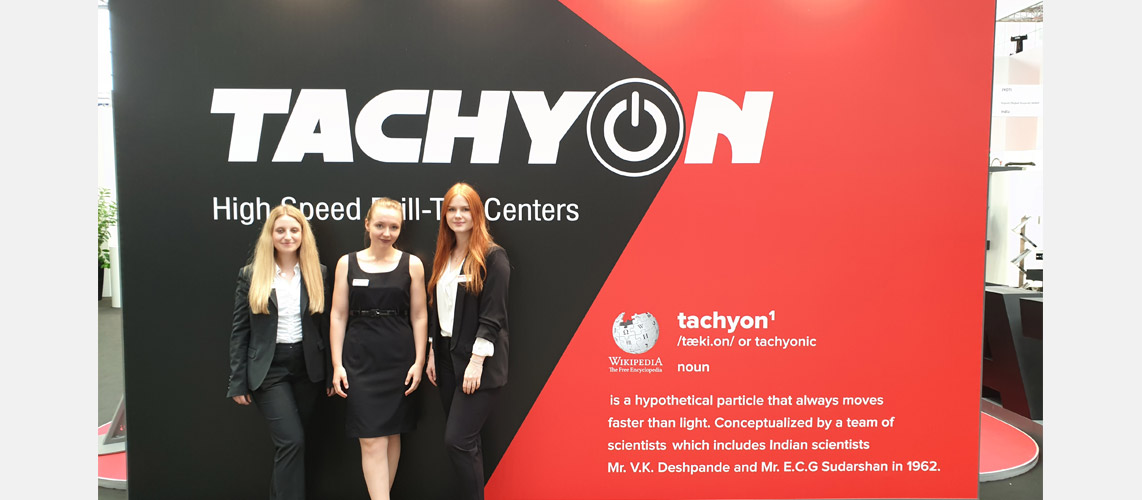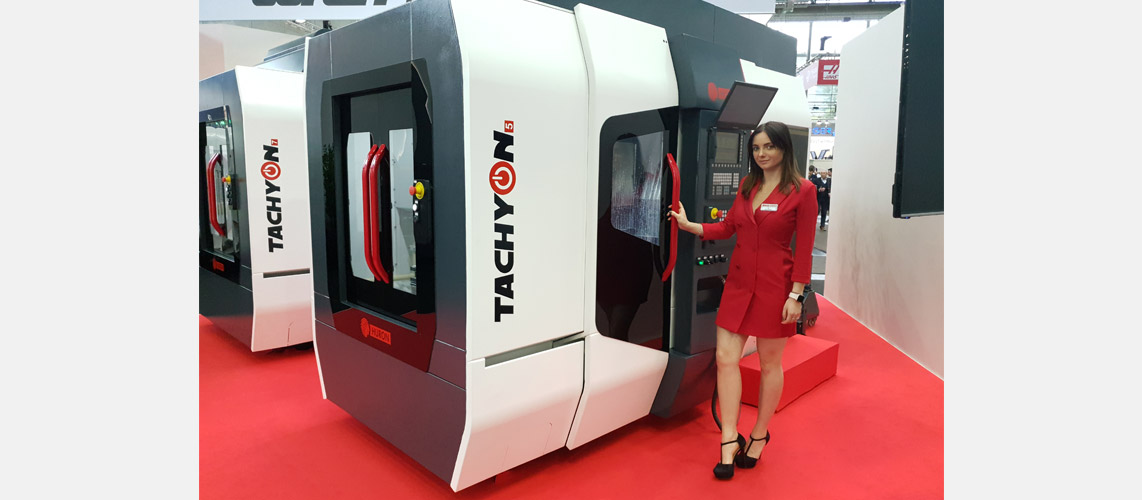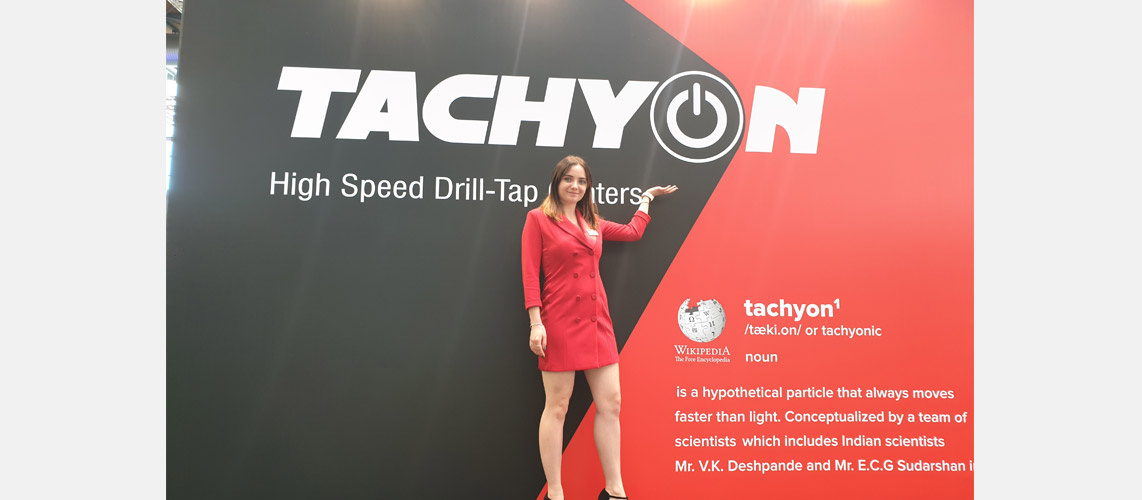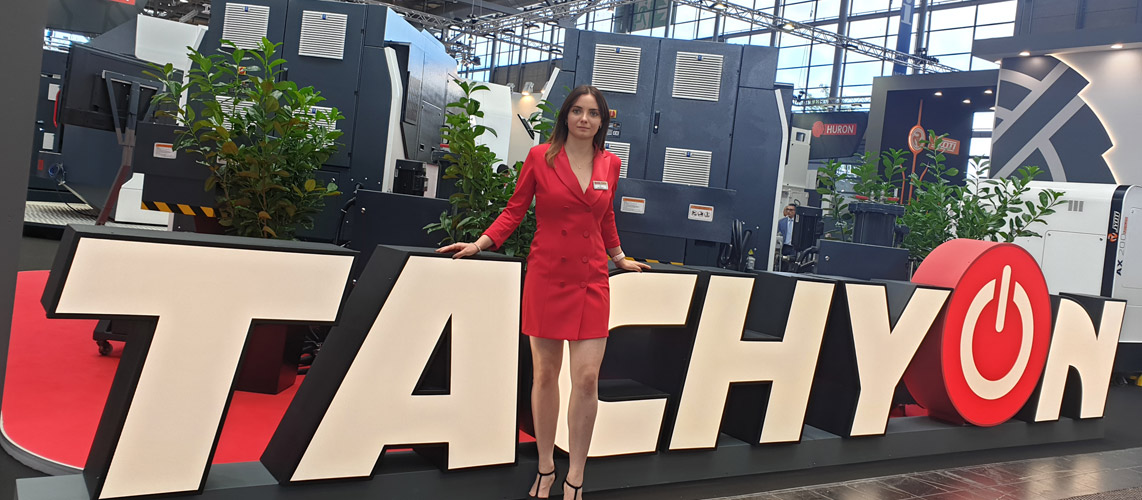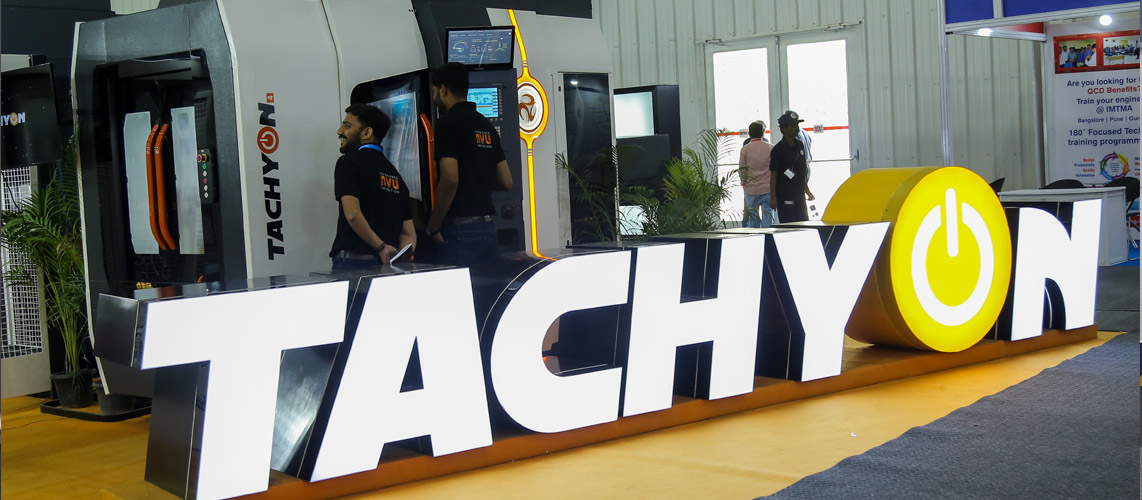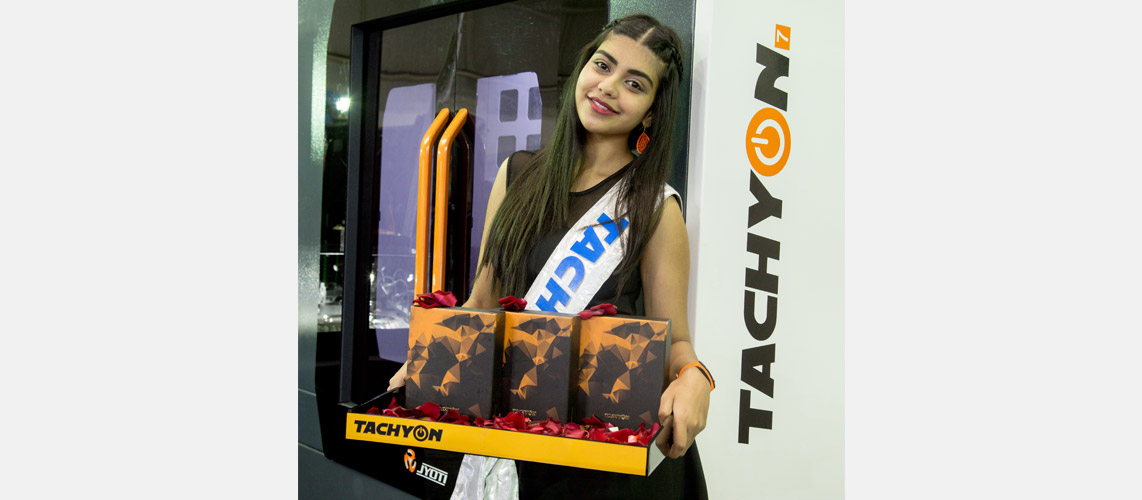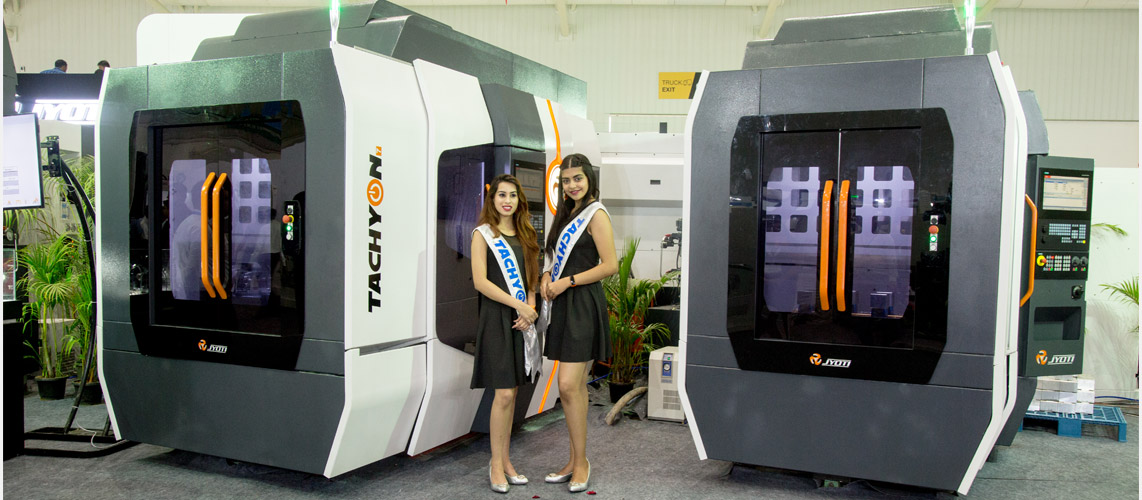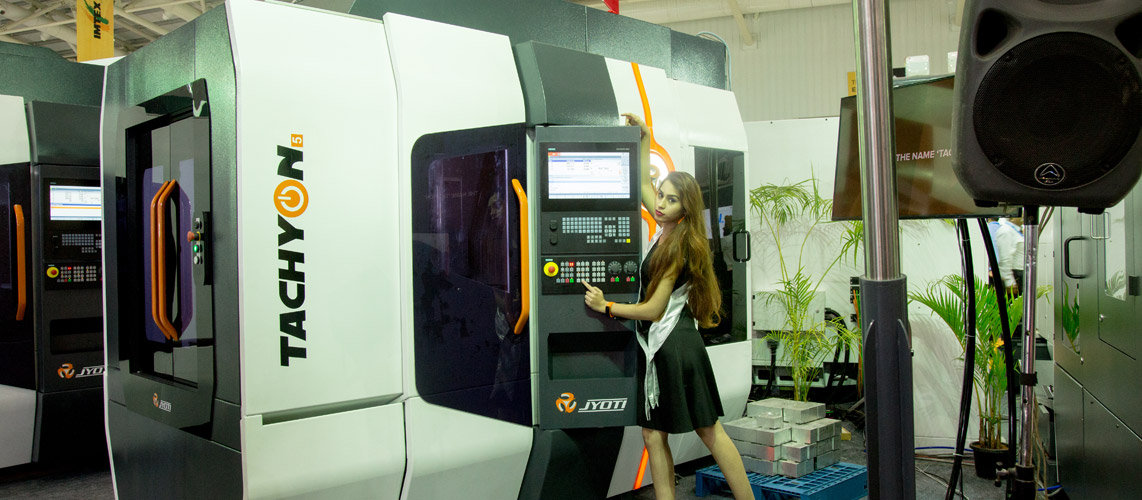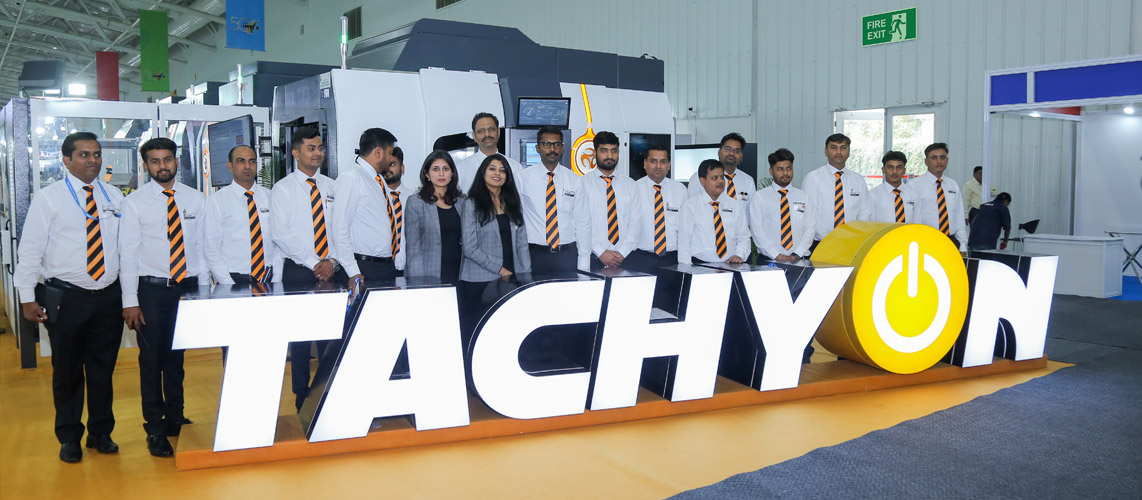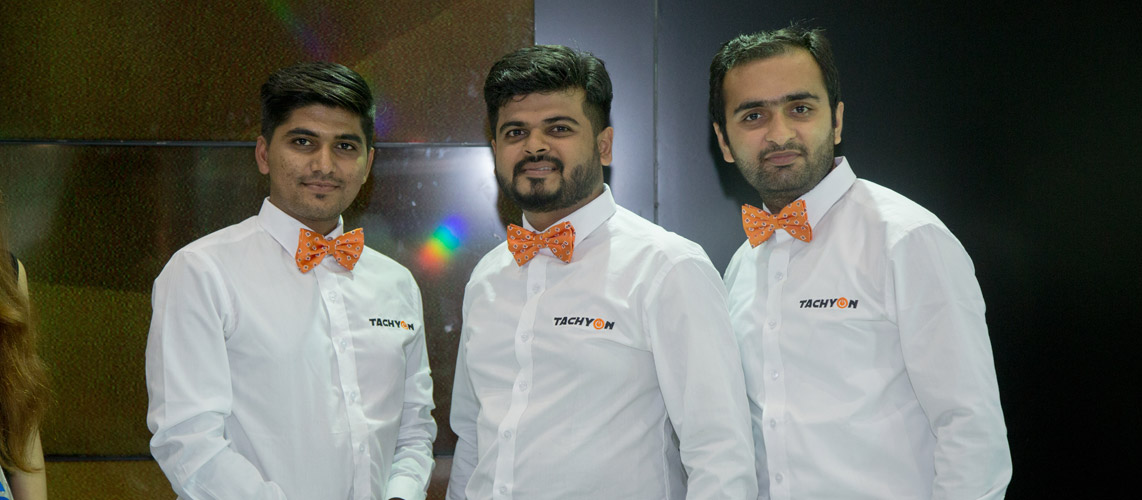 | | | | | |
| --- | --- | --- | --- | --- |
| | | Tachyon 4 | Tachyon 5 | Tachyon 7 |
| Capacity | | | | |
| X-Axis Travel | mm | 400 | 550 | 750 |
| Y-Axis Travel | mm | 400 | 400 | 400 |
| Z-Axis Travel | mm | 450 | 450 | 450 |
| Dis. From Spindle Face to Table Top (Min.-Max.) | mm | 200-650 | 200-650 | 200-650 |
| Automatic Pallet Changer | | | | |
| Table Size | mm | 560 x 400 | 600 x 400 | 800 x 400 |
| T-Slot Dimention | mm | 4 x 14 x 100 | 4 x 14 x 100 | 4 x 14 x 100 |
| Dist. from Floor to Table | mm | 804 | 804 | 804 |
| Max. Load on Table | kgf | 200 x 2 | 250 x 2 | 300 x 2 |
| Main Spindle | | | | |
| Spindle Speed | rpm | 10000 | 10000 | 10000 |
| Spindle Motor Power -Siemens | kW | 20.4/4.8 | 20.4/4.8 | 20.4/4.8 |
| Spindle Nose | mm | BT 30 (BBT 30) | BT 30 (BBT 30) | BT 30 (BBT 30) |
| Feed | | | | |
| Rapid Traverse (X/Y/Z Axis) | m/min | 60 | 60 | 60 |
| Cutting Feed | m/min | 30 | 30 | 30 |
| Automatic Tool Changer | | | | |
| No. of Tool | | 16 | 16 | 16 |
| Max. Tool Dia. | mm | 80 | 80 | 80 |
| Max.Tool Length | mm | 200 | 200 | 200 |
| Max.Tool Weight | kg | 3 | 3 | 3 |
| Accuracy with Glass Scale (As per VDI/DGQ 3441) | | | | |
| Positioning Uncertainty (P) | mm | 0.01 | 0.01 | 0.01 |
| Repeatability (Ps medium) | mm | 0.005 | 0.005 | 0.005 |
| Other Data | | | | |
| Machine Weight #(Approx.) | Kg | 4200 | 4500 | 4800 |
| Machine Dimension #(Approx.) | | | | |
| Length | mm | 2850 | 2850 | 2850 |
| Width | mm | 1400 | 1620 | 1740 |
| Height | mm | 2630 | 2630 | 2630 |
* Depend upon clamping arrangement, Tooling & Job # Refer machine detailed layout