About Us
Foreign Subsidiaries
Huron Graffenstaden SAS is located at Strasbourg, France and is a pioneer for 5-Axis machining technology. Further to that company has subsidiaries at Gerlingen, Germany and Quebec, Canada. Huron pre dominantly caters Aerospace, Automotive, Die-mould, General Engineering segments across the globe.
View Virtual Tour of Huron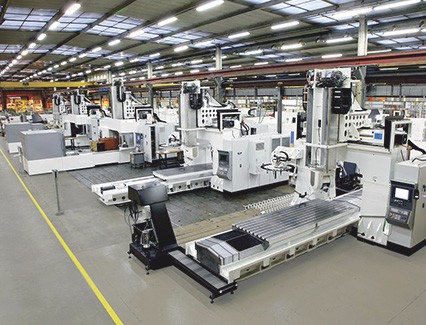 We operate out of 3 manufacturing facilities, 2 in Rajkot, Gujarat, and 1 in Strasbourg, France, which are equipped with capabilities to design, develop and manufacture our product portfolio. As on June 30, 2023, we had the capacity to manufacture 4,400 machines p.a. in India and 121 machines p.a. in France. Our units are spread across 237,408.50 sq. meters of industrial land in India which comprises utilised land of 72,753.18 sq. meters and unutilised land of 164,655.32 sq. meters, and 16,414 sq. meters in France which comprises utilised land of 6,785 sq. meters and unutilised land of 9,629 sq. meters. We also have a captive foundry, machining, sheet metal unit, paint-shop and assembly unit. Our ability to deliver high precision multi-purpose products is enabled by our dedicated research and development (R&D) facility at Rajkot, Gujarat (R&D Centre) and our R&D team in Strasbourg, France. Our R&D is critical to our product development and is integral to our process optimisation which ensures that we continue to evolve with the changing industry landscape. As of June 30, 2023, our R&D team aggregated 129 employees in Rajkot, Gujarat and Strasbourg, France. Our R&D capabilities are supported by design and development tools such as Pro/E Foundation, Pro/E advance assembly extensions, Pro/Mechanical solutions, Pro/Manufacturing UNIGRAPHICS and Altair Hyperworks. Our renowned customers include Space Applications Centre – ISRO, BrahMos Aerospace Thiruvananthapuram Limited, MBDA, Turkish Aerospace, Uniparts India Limited, AVTEC Limited, Tata Advances System Limited, Tata Sikorsky Aerospace Limited, Bharat Forge Limited, C.R.I. Pumps Private Limited, Kalyani Technoforge Limited, Shakti Pumps (India) Limited, Shreeram Aerospace & Defence LLP, Rolex Rings Limited, Orbit Bearings India Private Limited, Omnitech Engineering Private Limited, Harsha Engineers International Limited, Bosch Limited, HAWE Hydraulics Private Limited, Festo India Private Limited, Elgi Rubber Company Limited, National Fittings Limited, and Aequs Private Limited.
Huron News