About Us
Alsace
ALSACE
Our subsidiary "Huron" is located in one of the beautiful North East French Region on the plain of Rhine River, bordering Germany and Switzerland. This place is under German and French control periodically which reflects a mix of both the cultures.
A varied and easily accessible region. Although modest in size, Alsace's geography is such that it offers an incredible variety of landscapes and climates. This geographical richness also contributes to the diversity of the region's local products, providing countless possibilities for tourists to take interesting souvenirs back home with them.
Chiefly comprised of plains and hills, the region also offers a landscape ideal for anyone keen to enjoy mountain activities and to admire the outstanding views over the plains and towns of Alsace.
The transport infrastructure is well developed here, enabling visitors to travel in or to Alsace easily, by car or motorcycle, thanks to the motorway, by train with the TGV Est high-speed train service and the TER Alsace regional rail services, by plane thanks to the airports (Basel-Mulhouse, Baden-Airpark, Stuttgart and Strasbourg), and finally by boat for those looking for a more leisurely trip.
To know more about Strasbourg: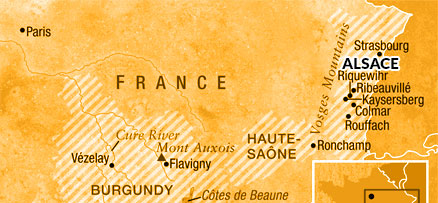 Alsace region is globally known and recognized for its exotic "Alsatian Wine" which is primarily white wine. Wines are grown on more than 37,000 acres spread across 100 plus villages of Alsace region.