KX Five
KX Five nvu Series
Varients: K3X8 Five nvu / K2X10 Five
KX Five Series, HSM concept enabling operation in 5-axis simultaneous from roughing to finishing of variety of complex high precision applications. The fix portal design combines high dynamics and accuracy with improved surface quality. Powerful high speed electro-spindle assures high metal removal rate. Rotary table is equipped with TRIM technology offers inclination at 55° allowing negative angle which can be rotate up to 50 rpm with area of φ 500mm, -30°/+180° tilting. Multiple variant in multiple pallet and ATC adds productive advantage with the series. These series is specially designed for injection moulds, complex aerospace components or high integrity mechanical parts.
KX Five nvu Series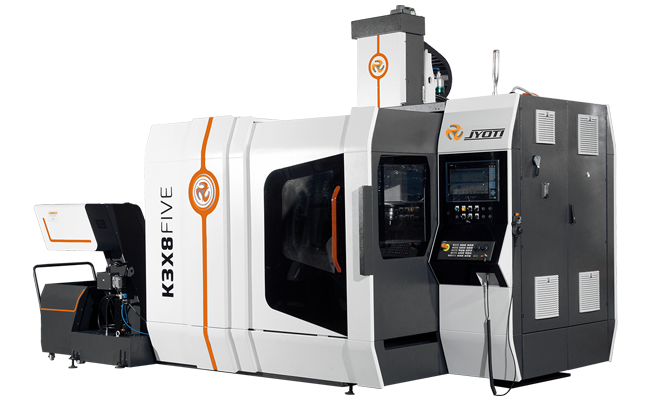 Key Features
Structure with fixed portal in ribbed cast iron with stiffness wall.
Harmonically stable Machine for complex part machining.
A & C axis TRIM table with high torque capacity.
20° negative angle in table for 6th side machining.
Large accessibility from the top for better approach.
Incremental measurement by optical encoders.
High speed 24000rpm electro-spindle.
Multiple variant in palletization up to 6 pallets.
20 tool fast auto tool changer.
Efficient chip disposal and easy chip evacuation.
Electrical with quality device & panel AC.
Ergonomic design and aesthetic look.
Auto & manual coolant.
Centralized & programmable lubrication.
High Speed Machine

Simultaneous 5-Axis Machine

Rotary Table with TRIM

High Speed Electro Spindle
K3X8 Five nvu
K2X10 Five
Linear Axis (X,Y & Z-axis)
Travels
mm
780 x 700 x 500
900 x 900 x 500
Rapid Feedrates
m/min
50
50
Acceleration on axis
m/s2
5
5
Structure
Table on a 55˚ plane
Table on a 45˚ plane
Tilting Axis - A
+30˚ to -180˚
+45˚ to -180˚
Rotation Speed A - Axis
rpm
50
40
Rotational Axis - C
360°
360°
Rotation Speed C - Axis
rpm
50
90
Working Position
Horizontal position =0˚
Horizontal position =0˚
(Angle Spindle Axis/Table)
Vertical position=90˚
Vertical position=90˚
Inclined=-20˚
Table
Table Area
mm
Ø 500
Ø 630
Admissible Load on Table
kg
250
500
Distance from spindle nose to table top
mm
525
700
Spindle
Rotating Speeds
rpm
18000
18000
Tool Taper
HSK 63A
HSK 63A
Power-Torque (S6-40%/S1)
kW - Nm
26.7 - 110/84
26.7 - 110/84
Characteristics Speed
rpm
3400
3400
Tool Magazine
Pocket quantity
20
20
Max. Tool length
mm
250
250
Tool Diameter
mm
90
90
Max. Tool weight
kg
7
8
Accuracies
Uncertainty : P
µm
Linear Axis X,Y & Z : 4
Linear Axis X,Y & Z : 4
Sec
Rotating Axis A & C : 7.2
Rotating Axis A & C : 7.2
Repetability : Ps Medium
µm
Linear Axis X,Y & Z : 2
Linear Axis X,Y & Z : 2
Sec
Rotating Axis A & C : 3.6
Rotating Axis A & C : 3.6
Coolant
Flow-Pressure
min - bar
30 - 03
30 - 03
Tank
Liters
230
230
* Depend upon clamping arrangement, Tooling & Job # Refer machine detailed layout