KX
KX Series

KX Large Series

Varients: KX 50M / KX 50L / KX 100 / KX 200 / KX 300

KX Large series is a range of high performance 5-axis double column machining centers for complex 3D contouring machining. The rigid structure loaded with fork type with 2-rotary axis milling head allows high speed cutting, feed rates and acceleration at minimum jerk. Optical measuring scale adds to greater accuracy and cutting performance. Several high torque electro-spindle and auto tool changer options available for different application base requirement. Exclusively fit for large sized die-mould, tool room, aerospace and precision engineering component.
KX Large Series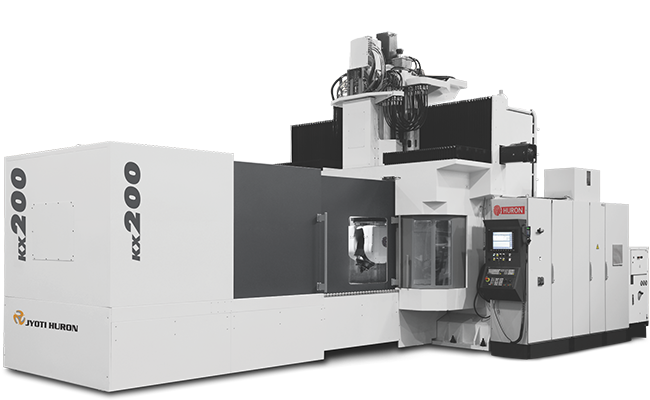 Key Features
Portal, rigid, double column gantry type structure.
Forked milling head with 2 rotational direct driven B & C axis.
Harmonically & thermally stable machine.
High acceleration and high rapid rate up to 40m/min.
Incremental measurement by optical encoders.
High speed 20000rpm electro-spindle.
Large door opening for better accessibility.
High precision wider roller type liner motion guide ways.
30, 40 tool fast ATC Placed outside of working area.
Efficient chip flow and effective chip evacuation.
Electrical with quality device & panel AC.
Auto & manual coolant.
Centralized & programmable lubrication.
Simultaneous 5-Axis machining

High Speed Machine

High Speed Electro Spindle

TPM Friendliness
| | | | | | | |
| --- | --- | --- | --- | --- | --- | --- |
| | | KX 50 M | KX 50 L | KX 100 | KX 200 | KX 300 |
| Linear X/Y/Z Axis | | | | | | |
| Travel | mm | 2000/1700/900 | 3000/1700/900 | 2300/2300/1000 | 3300/2300/1000 | 5000/3100/1500 |
| Rapid Feedrate | m/min | 40 | 40 | 40 | 25/40/40 | 20 |
| Acceleration on Axis | m/s2 | 4 | 4(*:Weight on table limited) 2.4(**) | 4 | 4 | 1.9 1.9 2 |
| Vectorial Acceleration | m/s2 | 7 | 7/6.2(**) | 7 | 7 | 3.5 |
| Rotating Head (B-C Axis) | | | | | | |
| B Axis | Deg. | ± 95° | ± 95° | ± 95° | ± 95° | ± 95° |
| C Axis | Deg. | ± 190° | ± 190° | ± 190° | ± 190° | ± 190° |
| Rotation | rpm | 100 | 100 | 30 | 30 | 30 |
| Acceleration on Axis | rad/s2 | 12 | 12 | 6 | 6 | 6 |
| Table | | | | | | |
| Length x Width | mm | 2200 x 1250 | 3300 x 1250 | 2500 x 1250 | 3500 x 1250 | 5200 x 2000 |
| Admissible Load | kg | 4000 | 6000 | 6000 | 9000 | 13000 |
| Quantity of Slots | | 9 | 9 | 9 | 9 | 15 |
| Slot : Reference/Others | mm | 18H7/18H12 | 18H7/18H12 | 22H8/22H12 | 22H8/22H12 | 22H8/22H12 |
| Distance Between Slots | mm | 125 | 125 | 125 | 125 | 125 |
| Electro Spindle | | | | | | |
| Rotating Speed | rpm | 20000 | 20000 | 18000 | 18000 | 18000 |
| Taper | | HSK 63A | HSK 63A | HSK 63A | HSK 63A | HSK 63A |
| Power (S6/S1) | kW | 75/60 | 75/60 | 30/20 | 30/20 | 30/20 |
| Torque (S6/S1) | Nm | 75/60 | 75/60 | 240/160 | 240/160 | 240/160 |
| Characteristic Speed | rpm | 9950 | 9950 | 1200 | 1200 | 1200 |
| Tool Magazine | | | | | | |
| Pocket Qty. | | 30 | 30 | 40 | 40 | 40 |
| Tool Length | mm | 300 | 300 | 300 | 300 | 300 |
| Tool Diameter | mm | φ 90 | φ 90 | φ 100 | φ 100 | φ 100 |
| Tool Weight | kg | 8 | 8 | 8 | 8 | 8 |
| Weight in the Magazine | kg | 120 | 120 | 160 | 160 | 160 |
| Accuracy | | | | | | |
| Linear Axis (X/Y/Z Axis) | | | | | | |
| Positioning Uncertainty (P) | mm | 0.007 | 0.007 | 0.007 | 0.007 | 0.01 |
| Repeatability (Ps medium) | mm | 0.004 | 0.004 | 0.004 | 0.004 | 0.005 |
| Rotating Axis (B/C Axis) | | | | | | |
| Positioning Uncertainty (P) | sec | 10 | 10 | 10 | 10 | 10 |
| Repeatability (Ps medium) | sec | 5 | 5 | 5 | 5 | 5 |
| Coolant | | | | | | |
| Flow-Pressure | l/min-bar | 10-3 | 10-3 | 30-5 | 30-5 | 30-5 |
| Tank Capacity | Ltr. | 375 | 375 | 1000 | 1000 | 1000 |
* Depend upon clamping arrangement, Tooling & Job # Refer machine detailed layout