DXG
CNC Chucker with Automation

DXG 100/DXG 100i SP

Varients: DXG 100/DXG 100i SP

To meet up mass production demand of small disc type component with un-attended operation DXG 100 would be a complete automation solution. Monoblock structure allows high rigidity and higher dynamics. An integrated 2-Axis gantry and auto feeder to assist job handling automation to help unmanned operation. The series offers perfect multi process integration in mass production system for small disc - type precision components in huge quantities.
DXG 100/DXG 100i SP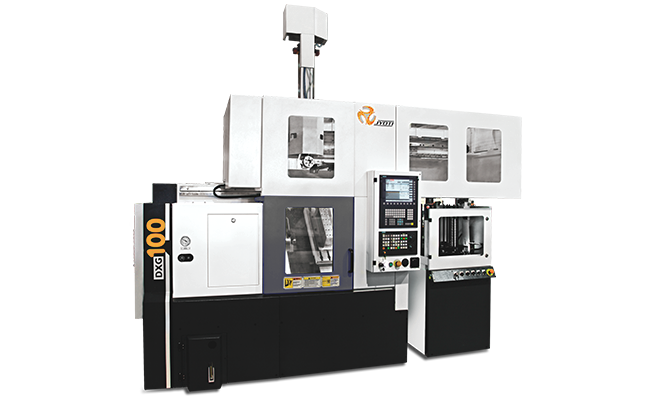 Key Features
CNC Chucker with 2-axis gantry robot.
Slant bed monoblock design and construction.
Rigid headstock & spindle.
Un-manned loading to unloading operations.
Auto feeder and change over station available.
Efficient chip disposal.
Hydraulic chucking.
Gang type linear tooling.
Auto and manual coolant system.
Electrical with quality devices & panel with A.C.
Centralized & programmable lubrication.
Fully tooled up solution to meet customer need.
Monoblock Structure

3-point Leveling

TPM Friendliness
| | | | |
| --- | --- | --- | --- |
| Capacity | | DXG 100 | DXG 100i SP |
| Swing Over Bed | mm | 470 | 470 |
| Std. Turning Dia. | mm | 100 | 100 |
| Max. Job Swing Dia. | mm | 200 | 200 |
| Max. Turning Length * | mm | 200 | 200 |
| Slides | | | |
| X-Axis Travel (Cross) | mm | 360 | 360 |
| Z-Axis Travel (Longitudinal) | mm | 200 | 200 |
| Rapid Feed (X & Z Axis) | m/min | 24 | 24 |
| Main Spindle | | | |
| Spindle Motor Power -Fanuc | kW | 7.5/5.5 | 7.5/5.5 |
| Spindle Motor Power -Siemens | kW | 9.8/7.5 | 9.8/7.5 |
| Spindle Bore | mm | 55 | 55 |
| Spindle Nose | | A2-5 | A2-5 |
| Max. Bar Capacity | mm | 44 | 44 |
| Spindle Speed Range | rpm | 50-4000 | 50-4000 |
| Tooling (Gang Type) | | | |
| Max. Boring Bar Capacity | mm | 40 | 40 |
| Tool Size (Cross Sectional) | mm | 25 x 25 | 25 x 25 |
| Automated Gantry Robot Loader/Unloader | | | |
| Work piece Dimension (Loader Capacity) | mm | Ø85 x 45 | Ø 105 x 45 |
| Max. Part Weight (One Side) | kg | 1 | 2.5 |
| Loader X (Left/Right) Axis Stroke | mm | 1500 | - |
| Max. Speed (X Axis) | m/min | 120 | - |
| Loader Y (Up/Down) Axis Stroke | mm | 560 | - |
| Max. Speed (Y Axis) | m/min | 110 | - |
| Loader Z (Left/Right) Axis Stroke | mm | - | 250 |
| Max. Speed (Z Axis) | m/min | - | 50 |
| Loader X (Up/Down) Axis Stroke | mm | - | 375 |
| Max. Speed (X Axis) | m/min | - | 110 |
| Jaw Stroke Per Jaw (Loader Chuck) | mm/deg. | 4 | 6 |
| Rotation (Swivel Unit) | deg | 90 | - |
| Accuracy (As per VDI/DGQ 3441) | | | |
| Positioning Uncertainty (P) | mm | 0.007 | 0.007 |
| Repeatability (Ps medium) | mm | 0.005 | 0.005 |
| Other Data | | | |
| Machine Weight #(Approx.) | Kg | 2900 | 2300 |
| Machine Dimension # (Approx.) | | | |
| Length | mm | 2960 | 3150 |
| Width | mm | 1400 | 3000 |
| Height | mm | 3080 | 2500 |
* Depend upon clamping arrangement, Tooling & Job # Refer machine detailed layout