DX
DX Series

DX Large Series

Varients: DX 500-1000 / 1250 / 2000, DX 750-1250 / 3000

The DX Large series machines are designed for heavy component and interrupted cutting there by allowing machining with superior finishing and to retain accuracy for longer time along with ease of service, excellent maintainability and flexibility. The series is an ideal partner for machining large diameter components used in automotive, heavy machinery, oil & gas and infrastructure application.
DX Large Series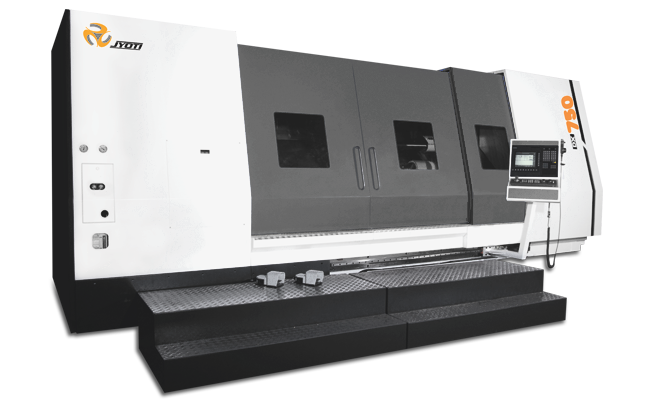 Key Features
Single piece slant saddle construction.
Rigid and durable structure for hard part turning.
Powerful high torque spindle with rigid headstock.
Wider liner motion type guide ways.
Step-up construction for vibration free heavy cutting.
Heavy duty – high precise bi-directional servo turret.
Live tool turret option available for milling operations.
Ergonomically design concept.
Efficient chip disposal.
Tail stock with hydraulic quill.
Hydraulic chucking.
Auto and manual coolant system.
Electrical with quality devices & panel with A.C.
Centralized & programmable lubrication.
Monoblock Structure

Step-up Structure

3-point Leveling

Bi-directional servo turret
| | | | | | | | | | | | | | | |
| --- | --- | --- | --- | --- | --- | --- | --- | --- | --- | --- | --- | --- | --- | --- |
| | | DX 500 - 1000 A | DX 500 - 1000 B | DX 500 - 1000 C | DX 500 - 1250 A | DX 500 - 1250 B | DX 500 - 1250 C | DX 500 - 2000 A | DX 500 - 2000 B | DX 500 - 2000 C | DX 750 - 1250 A | DX 750 - 1250 B | DX 750 - 3000 A | DX 750 - 3000 B |
| Capacity | | | | | | | | | | | | | | |
| Swing Over Bed | mm | 800 | 800 | 800 | 825 | 825 | 825 | 825 | 825 | 825 | 1050 | 1050 | 1050 | 1050 |
| Std. Turning Dia. | mm | 550 | 550 | 550 | 600 | 600 | 600 | 600 | 600 | 600 | 780 | 780 | 780 | 780 |
| Max. Turning Dia.* | mm | 700 | 700 | 700 | 800 | 800 | 800 | 800 | 800 | 800 | 920 | 920 | 920 | 920 |
| Max. Turning Length* | mm | 1000 | 1000 | 1000 | 1250 | 1250 | 1250 | 2000 | 2000 | 2000 | 1250 | 1250 | 3000 | 3000 |
| Slides | | | | | | | | | | | | | | |
| X-Axis Travel (Cross) | mm | 360 | 360 | 360 | 410 | 410 | 410 | 410 | 410 | 410 | 480 | 480 | 480 | 480 |
| Z-Axis Travel (Longitudinal) | mm | 1000 | 1000 | 1000 | 1250 | 1250 | 1250 | 2000 | 2000 | 2000 | 1250 | 1250 | 3100 | 3100 |
| Rapid Feed (X & Z Axis) | m/min | 24 | 24 | 24 | 24 | 24 | 24 | 24 | 24 | 24 | 24 | 24 | 24/20 | 24/20 |
| Main Spindle | | | | | | | | | | | | | | |
| Spindle Motor Power - Fanuc | kW | 22/18.5 | 26/22 | 37/30 | 22/18.5 | 26/22 | 37/30 | 22/18.5 | 26/22 | 37/30 | 26/22 | 37/30 | 26/22 | 37/30 |
| Spindle Motor Power - Siemens | kW | 27.8/18.5 | 33/22 | 45/30 | 27.8/18.5 | 33/22 | 45/30 | 27.8/18.5 | 33/22 | 45/30 | 33/22 | 45/30 | 33/22 | 45/30 |
| Spindle Speed Range | rpm | 50-2500 | 50-1500 | 50-1200 | 50-2500 | 50-1500 | 50-1200 | 50-2500 | 50-1500 | 50-1200 | 50-1500 | 50-1200 | 50-1500 | 50-1200 |
| Spindle Bore | mm | 80 | 110 | 180 | 80 | 110 | 180 | 80 | 110 | 180 | 110 | 180 | 110 | 180 |
| Spindle Nose | | A2-8 | A2-11 | A2-15 | A2-8 | A2-11 | A2-15 | A2-8 | A2-11 | A2-15 | A2-11 | A2-15 | A2-11 | A2-15 |
| Max. Bar Capacity | mm | 65 | 90 | 90 | 65 | 90 | 90 | 65 | 90 | 90 | 90 | 90 | 90 | 90 |
| Turret | | | | | | | | | | | | | | |
| No. of Station | | 8 | 8 | 8 | 8 | 8 | 8 | 8 | 8 | 8 | 12 | 12 | 12 | 12 |
| Max. Boring Bar Dia. | mm | 50 | 50 | 50 | 50 | 50 | 50 | 50 | 50 | 50 | 60 | 60 | 60 | 60 |
| Tool Size (Cross Sectional) | mm | 32 X 32 | 32 X 32 | 32 X 32 | 32 X 32 | 32 X 32 | 32 X 32 | 32 X 32 | 32 X 32 | 32 X 32 | 32 X 32 | 32 X 32 | 32 X 32 | 32 X 32 |
| Tail Stock | | | | | | | | | | | | | | |
| Quill Dia. | mm | 130 | 130 | 130 | 130 | 130 | 130 | 130 | 130 | 130 | 170 | 170 | 170 | 170 |
| Quill Stroke | mm | 150 | 150 | 150 | 150 | 150 | 150 | 150 | 150 | 150 | 200 | 200 | 200 | 200 |
| Thrust (Adjustable) | kgf (Max.) | 1000 | 1000 | 1000 | 1000 | 1000 | 1000 | 1000 | 1000 | 1000 | 1500 | 1500 | 1500 | 1500 |
| Accuracy (As per VDI/DGQ 3441) | | | | | | | | | | | | | | |
| Positioning Uncertainty (P) (X / Z Axis) | mm | 0.01 | 0.01 | 0.01 | 0.01/0.015 | 0.01/0.015 | 0.01/0.015 | 0.01/0.02 | 0.01/0.02 | 0.01/0.02 | 0.01/0.015 | 0.01/0.015 | 0.01/0.02 | 0.01/0.02 |
| Repeatability (Ps medium) (X / Z Axis) | mm | 0.005 | 0.005 | 0.005 | 0.005/0.007 | 0.005/0.007 | 0.005/0.007 | 0.005/0.008 | 0.005/0.008 | 0.005/0.008 | 0.005/0.007 | 0.005/0.007 | 0.005/0.008 | 0.005/0.008 |
| Other Data | | | | | | | | | | | | | | |
| Machine Weight # (Approx.) | Kg | 9500 | 9500 | 9500 | 10000 | 10000 | 10000 | 12500 | 12500 | 12500 | 19500 | 19500 | 24000 | 24000 |
| Machine Dimension # (Approx.) | | | | | | | | | | | | | | |
| Length | mm | 5500 | 5500 | 5500 | 5875 | 5875 | 5875 | 6930 | 6930 | 6930 | 7175 | 7175 | 9120 | 9120 |
| Width | mm | 2860 | 2860 | 2860 | 2860 | 2860 | 2860 | 2940 | 2940 | 2940 | 4420 | 4420 | 4420 | 4420 |
| Height | mm | 2250 | 2250 | 2250 | 2250 | 2250 | 2250 | 2250 | 2250 | 2250 | 2900 | 2900 | 2900 | 2900 |
* Depend upon clamping arrangement, Tooling & Job # Refer machine detailed layout